New Album & Single Releases
Le Vent du Nord
Borealis Records BCD 258 -- Bar Code 773958125827

Le Vent du Nord: Nicolas Boulerice - Simon Beaudry - Olivier Demers - Réjean Brunet - André Brunet
Long ago, Samuel de Champlain, the French explorer of what is now Eastern Canada, had a dream: that in the new territory he had explored, all might raise their voices together, indigenous and European, of all faiths, a chorus of different perspectives, cultures, and ideas. It was a dream forgotten, deferred, but one that resonates with where Canadians find themselves now.
Le Vent du Nord, feisty torch bearers of Quebecois traditional music, bring this dream (Le Pays de Samuel) and others to life on Territoires (Borealis Records) the group's richest, most intriguing album to date. From the plight of New France (Louisbourg) to progressive social changes (Evolution Tranquille) a nod to the mid-century quiet revolution that led to Quebec's rebirth, from mysterious monsters (Chaousaro) to love's yearnings (Le Soir Arrive), the now five-person ensemble travels far and wide.
"We wanted to explore the quest for territories, physical or internal, or territories that don't exist yet," says fiddler Olivier Demers. "They are also impressions, colours and sentiments, a way of feeling, extreme joy or deep sadness." The new album has sparked an entirely new show around these themes, a show that will be showcased at Folk Alliance International in Montreal. (the band was awarded Folk Artist of the Year at FAI in 2006!)
Le Vent du Nord's dream has always been to bring a contemporary, highly original sensibility to the songs and melodies preserved in archives or treasured in family troves.

Through thoughtful engagement with songs' stories and artful arrangements, the ensemble pushes Quebec folk music forward, with an ear open to the world and its current travails. This means finding timely messages in long-lost tales, crafting tight and moving vocal harmonies, and getting whirling dance tunes still cherished in many towns and families to groove hard.
"We're really added a bit of groovy stuff to this album," says fiddler and foot tapper André Brunet, who recently joined the group after years with Quebecois legends La Bottine Souriante," and several songs have a riff with a bouzouki and bass. We've left things more open, skipping the answers in the traditional call and response sections and putting a bit of effects on the lead vocal. The sound turned out really rich."
The richness has developed noticeably over time. With nearly 2,000 concerts, two Juno Awards, hundreds of tours across the globe, and ten albums to their credit, the band has had time to come into its own. "We are proud to call ourselves an established ensemble," says Demers. "We're mature and are creating at the peak of our confidence and power."
Le Vent du Nord Catalogue
Territoires (2019)
Le Vent Du Nord & De Temps Antan Notre Album Solo (2018)
Têtu (2015)
Tromper Le Temps (2012)
Le Vent Du Nord Symphonique (2010)
La Part Du Feu (2009)
Mesdames Et Messieurs! (2008)
Dans Les Airs (2007)
Les Amants Du Saint-Laurent (2005)
Maudite Moisson! (2003)
Eamon Friel RIP June 2019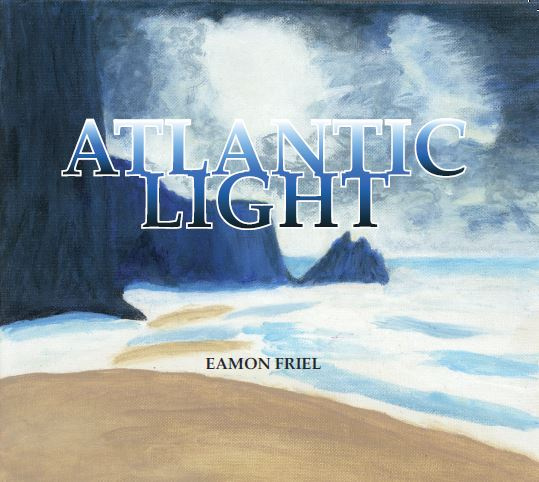 Eamon Friel
New Album

Atlantic Light
I meet an old friend who still sings the old songs.
Me and my beloved, we go walking in the wind and the rain. The ocean light overpowers me.
First love, that summer in London. I am a child again singing hymns in the old church.
It's the same old tune. What good is love held in reserve. I'm walking on the street of song.
Leaving in the twilight, returning in the dawn.
There still are dark satanic mills. Let me go home if I can -- Eamon Friel
Track Listing: 1. The Old Songs 2. Wind And Rain 3. Atlantic Light 4. Takeaway
5. Benediction 6. Under The Sun 7. Unspoken Love 8. Street Of Song
9. Between The Day & Night 10. The Hammer 11. Cnoc An Chénaí
All songs written and composed by Eamon Friel (Copyright Control)
Thran Records THR CD 1013 BC689232112202 -- Available Now
Musicians: Eddie O'Donnell (guitar) Marie Clarke (accordion) Eilidh Patterson (backing vocals)
Philo Sandeen (guitar) Rory Donaghy (whistle) Liam Bradley (drums and percussion)
Ciaran O'Donnell (bass) Frank Robinson Jr. (saxophone) Tracey McRory (fiddle)
Paul Cutliffe (uilleann pipes, whistles)
About Eamon Friel: Broadcaster, Singer/Songwriter
Eamon Friel is the son of a Mayo mother and Derry father. He writes about his life, experiences and his observations of the ever changing world that he sees around him.
Friel's writing is mystical painting pictures with his word play which could be compared with that of the landscape artist; each word carefully chosen and lovingly placed upon the page.
Mountains and hills become people in a place where animals talk and the soul and being are more important than time itself. The landscape of Ireland its churches, rivers and towns entwined with the effect it has had on a troubled people; it's all there in the songs.
Born in London's Stockwell with childhood summers spent in Ireland, the family left Stockwell and returned to his father's troubled hometown of Derry, Londonderry, Stroke City call it what you will. It was the youthful experience of cultural change and upheaval that left a lasting impression on the mind of a young man that would later emerge in songs penned in W.B Yeats like mystical imagery from a place in time and a time in place.
If proof of his ability as a songwriter were ever needed we need look no further than recent song covers by Sean Donnelly, The Fureys, Johnny Coppin, Pete & Jan, Bill Jones, Sean Tyrrell and the Japanese band Brahman.
Eamon broadcast's on BBC Radio Ulster via his much lauded and very popular programme 'Songbook' where he celebrates some of the world's best songs past and present, taking in the popular, the influential and even the esoteric. The show is a labour of love with each song hand picked, fully researched and weaved into a running order that is a piece of broadcasting excellence.
Friel is one of the few artists around that can say he was actually paid by radio to write topical, comic and satirical songs to order. He was at one time commissioned to write songs for BBC Radio Ulster's "Talkback" the lunch time inter-active news programme. A task he often had to carry out at the drop of a hat to meet the changing political and social demands of the day.
Eamon Friel's Album Catalogue - Thran Records
Atlantic Light (2019) THRCD 1013
In My Time (2016) THRCD 1011
Smarter (2009) Thran THRCD 1006
Here Is The River (2006) Thran THRCD 1004
Waltz of The Years (2003) Thran THRCD 1003
Word of Spring (2000) Thran Records THRCD 1001
Stepping Stones (1993) Spring Records SCD 1028
Logrhythms (1985) Spring Records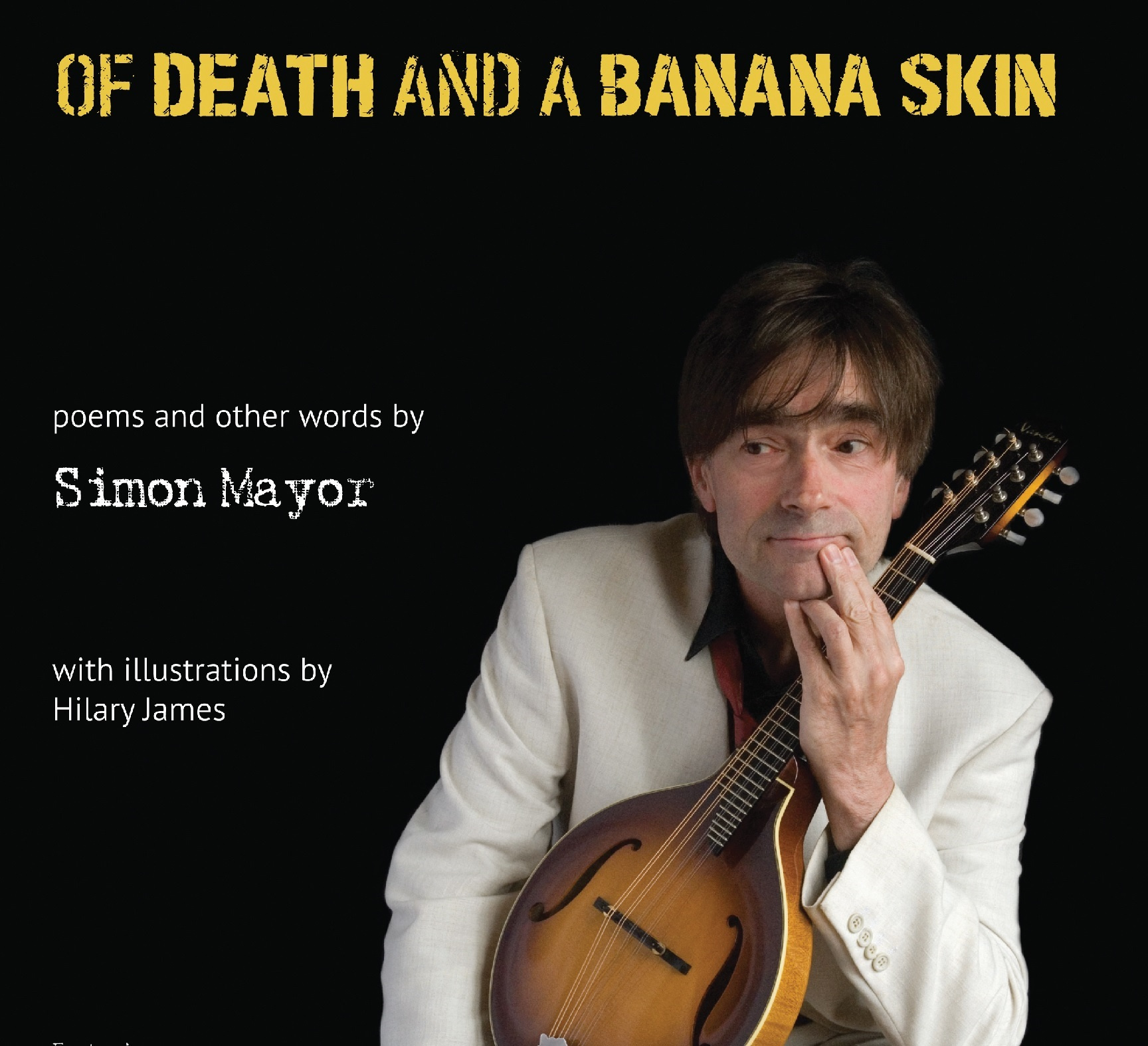 Simon Mayor
The Book
Of Death And A Banana Skin
The first anthology of poems and anecdotes by Simon Mayor, illustrated by Hilary James
Augmented Reality animations, readings, music and other media
Some pages within 'Of Death And A Banana Skin' feature Augmented Reality.
Many of the pages in this book can be brought to life by scanning them with a tablet computer or smartphone.
This will access animations, readings, music and other media. See demo
YouTube 'Of Death And A Banana Skin' (A Film About The Book) + YouTube 'The Stick' (Music, 'The Middlesmoor Waltz' )
A familiar name in the rarified atmosphere of planet mandolin, maestro Mayor swaps plectrum for pen in this first anthology of words. In verse and prose, and with wit, warmth, poignancy and intelligence, Mayor offers down-to-earth observations of his native and adopted haunts, laced with preposterous accounts of the haps and mishaps of his musical profession. The sticks and stones of the Yorkshire Dales, the delights of Reading, the quirks of Hay-on-Wye, the castles of Cleethorpes (sandy ones), noisy nights and country kissing all covered with perspicacity and humour!
"It was Hilary James who first persuaded me to read a poem during a concert. I chose The Stick, and people seemed to like it. For years we had performed together on stage, she singing (mostly), me playing (mostly), but we both did both. This was usually as a duo, but also with our mandolin quartet The Mandolinquents and in other occasional configurations. Perhaps I'll be more specific about my poems and her means of persuasion. She got me in an armlock, twisted it violently up my back before threatening to push it that extra inch to tear the tendons, thus preventing me from playing the mandolin ever again. SAS training is so rigorous it becomes instinctive. The thought of not playing the mandolin was unthinkable, but after thinking about it, I thought it best to succumb, and just a few years later we published Of Death And A Banana Skin."
Please explore this website to read and hear some of the poems, see some double page spreads, and watch animated renderings of Hilary James' digital artwork. Here's a taste of some anecdotes from Of Death And A Banana Skin Read journalist Molly Flatt's interview with Simon Mayor & Hilary James in The Bookseller.
Le Vent Du Nord
Single Release
Adieu du Village
Available now!
First single from their forthcoming album
TERRITOIRES
UK launch April 4th 2019 by Borealis Records
Union Chapel, Islington London

YouTube -- Adieu du Village https://youtu.be/GC95OAZfvLI
Internationally renowned traditional music group Le Vent du Nord will launch their 10th album February 15, 2019.
With unparalleled musicality, the five band members of Le Vent bring to life the stories, memories and tunes of Québec. From unaccompanied songs to sophisticated musical arrangements, TERRITOIRES brings new energy to the music of a valued and cherished heritage.
Adieu du Village (Borealis)
This traditional song is another gem found by the band in Acton Vale in the Montérégie region of Québec. Uncovered in a research paper in 1984 the song tells the story of Pierrot, who kills his lover to please his mother. He's sentenced to death by hanging, but the hangman's rope breaks and he survives. Pierrot is actually the story of all of us. We live with our lies, our violence, our wrongs, but life often grants us a reprieve. We're confronted with clear cutting, pollution, and the destruction of our heritage, but we get a second chance to do better. Behind the dark tale of Pierrot, there's the hope of a better world. This song from the past was modernised thanks to the melody of Nicolas Boulerice, as well as contemporary arrangements that notably include bouzouki and vocal effects.
UK Tour April 2019: Thu 4. Union Chapel - London, Sat 6. Liverpool Philharmonic Hall - Liverpool, Tue 9. East Riding Theatre - Beverley,
Wed 10. Djanogly Theatre, Lakeside Arts Centre - Nottingham, Thu 11. The Sage -- Gateshead, Fri 12. Victoria Hall -- Saltaire, Sat 13. Guildhall Arts Centre -- Grantham, Sun 14. Hazlitt Theatre -- Maidstone
Le Vent du Nord - An exceptional international career!
Not only considered outstanding francophone ambassadors, Le Vent du Nord are driving the Québec progressive folk movement as well as being major contributors to the rebirth of traditional Québec music. Since their formation in 2002, the group have enjoyed a meteoric rise that never ceases to amaze! The group have performed more than 1800 concerts across five continents, released nine albums, and won several prestigious awards, including a GRAND PRIX DU DISQUE CHARLES CROS (France), two JUNO AWARDS and a FÉLIX award at ADISQ 2015 for their latest record, TÊTU. Most recently the band has been acclaimed on major international stages, including events such as WOMAD Chile, WOMADELAIDE and WOMAD New Zealand in the Southern hemisphere, as well as the Edinburgh International Festival in Scotland and the legendary Fairport's Cropredy Convention.
Le Vent du Nord Catalogue
Territoires (2019)
Têtu (2015)
Tromper le temps (2012, 10th Anniversary)
Le Vent du Nord Symphonique (2010)
La Part du Feu (2009)
Mesdames et messieurs! (2008)
Dans les airs (2007)
Les amants du Saint-Laurent (2005)
Maudite moisson! (2003)